Discussion Starter
·
#1
·
Why should you buy a track vest? Everyone who rides knows the risks involved and that most of us will crash at least once in our lifetime. That's why armor for your body is a necessary investment and should be on the top of a purchase list for new riders. At the very least, we recommend a
back protector
of some sort. Most of us that ride or race use a back protector and/or chest protector under our
motorcycle jackets
or
race suits
. The problem with wearing just a back protector or chest protector is they can move out of place while riding. A track vest combines convenience, comfort, and most importantly - safety. Track vests, like the ones highlighted in this article, incorporate a back protector and chest armor into a zip-up vest that helps to keep the armor in its proper position. This ensures the armor works to its full potential in the event of a crash.
If you're someone that constantly has trouble keeping their back protector in place, especially when putting your suit on, take a look at some of the track vest options available from
Riders Discount
.
Three of our favorites are the Knox Track Vest V14, the Alpinestars Track Vest, and the Forcefield Airo Vest, all of which are available from Riders Discount. Check out the highlights of each item and reply with any comments or questions below.
From left to right - Forcefield Armor Airo Vest, Alpinestars Track Vest, Knox Track Vest V14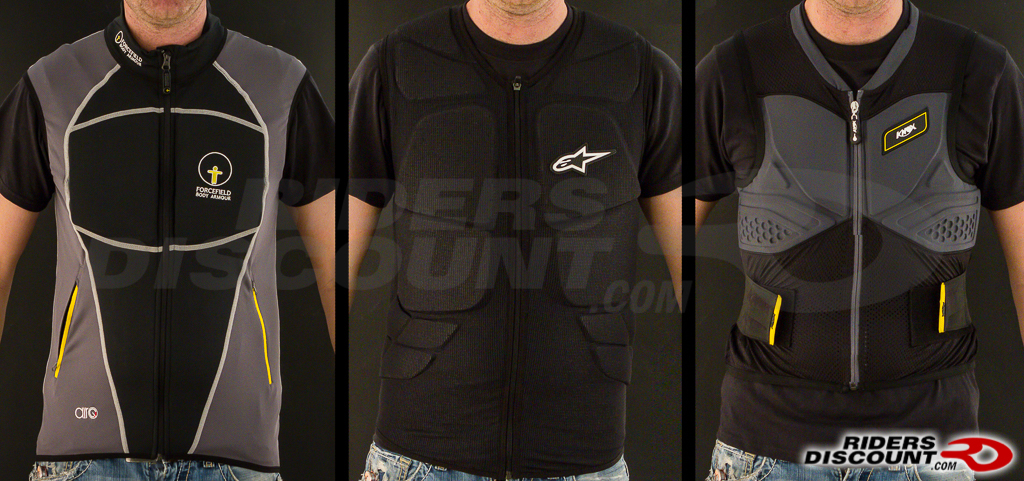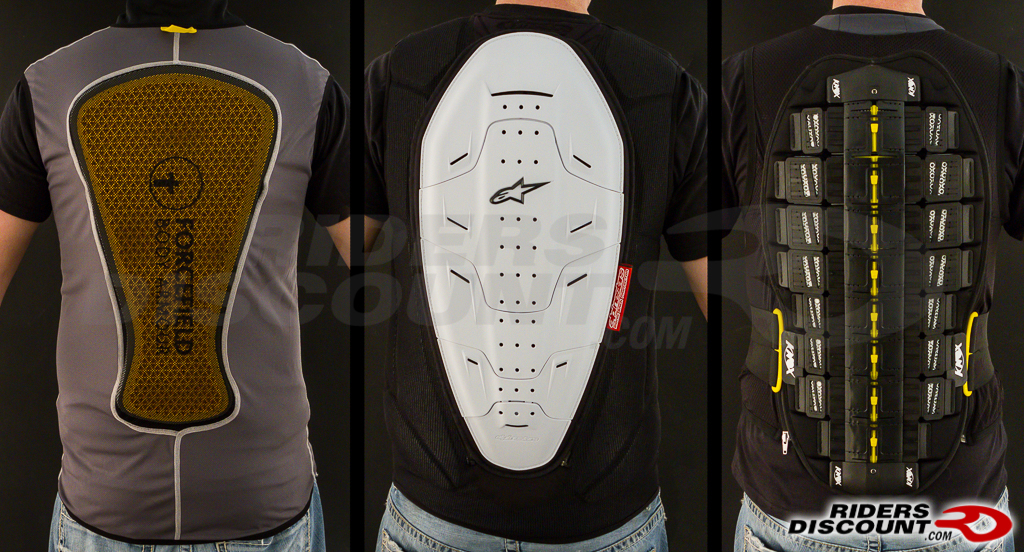 If you're interested in what you see or have any questions on any of the products, give
MIKE
a call at 866.931.6644 ext.
804
. Is email more convenient? Send us a private message through this forum or write to us at FORUM at RIDERSDISCOUNT dot COM, and we'll get back to you right away!
Knox Track Vest V14
- MSRP $219.95
CE Level 2 back protector
Soft chest padding with CE approved chest protector sold separately
Machine washable
True to size (S - 2XL)
Based on Knox's most popular track vests of all time, the Knox Aegis Track Vest, the
Knox Track Vest V14
is updated with Knox's latest Aegis back protector, YKK zippers, and a padded chest. The Knox Track Vest also has the option of using Knox's chest protector which velcro's in place. This is the same back protector worn by MotoGP rider, James Ellison, and Isle of Man TT winner, Michael Rutter.
The waist belt has 6 different notches making it fully adjustable to a position that is comfortable for you.
The Aegis back protector zips off making it machine washable for when that smell gets to be a bit too much.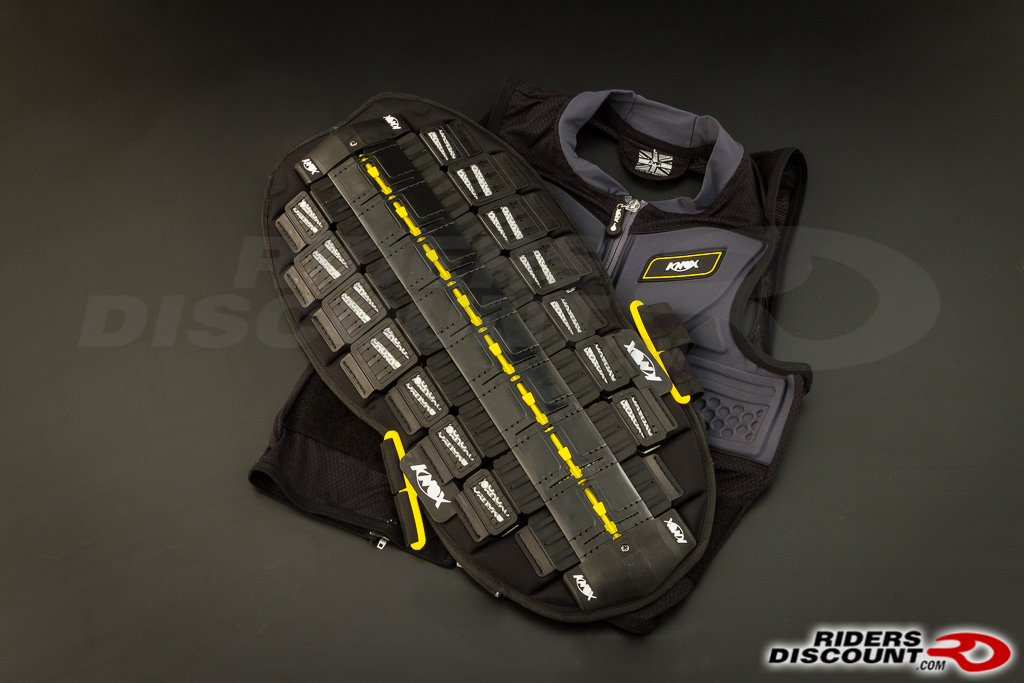 We really love the Knox Track Vest V14 because of it's adjustable waist belt and the included Aegis back protector.
Link to purchase the Knox Track Vest V14 here.
Alpinestars Track Vest
- MSRP $189.95
CE Level 2 back protector
Bio-foam chest padding (no optional chest protector)
Not machine washable
True to size (S - 2XL)
Alpinestars is known for their quality products and the
Alpinestars Track Vest
is no different. Featuring their top of the line
Bionic Race back protector
, the Track Vest uses bio-foam chest padding with auto-locking YKK zippers. The Bionic Race back protector zips off to hand-wash with your delicates.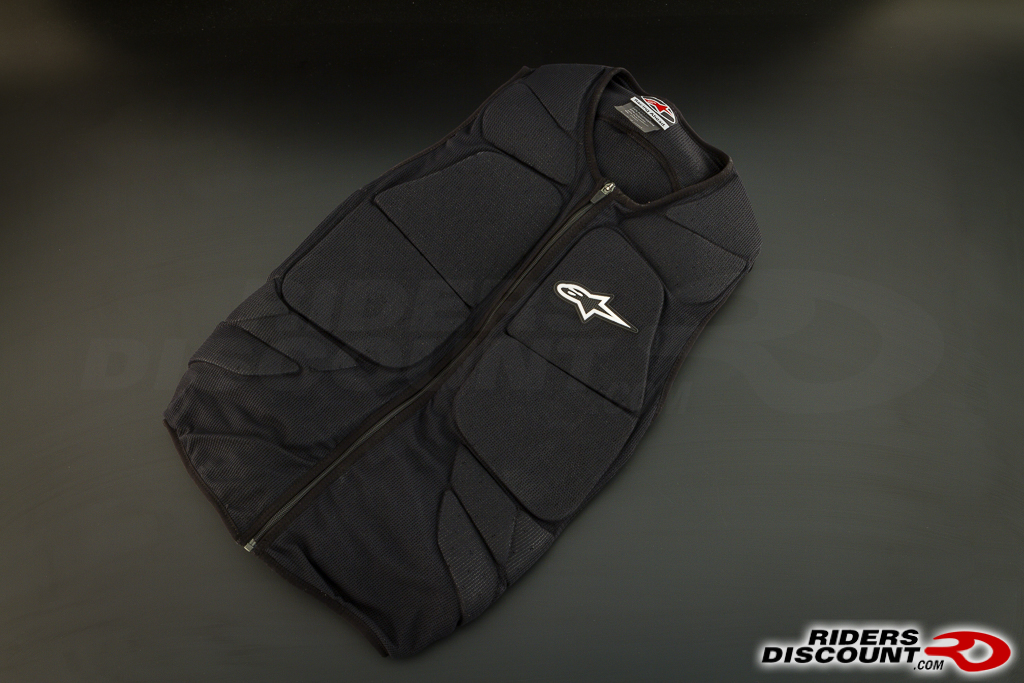 Alpinestars not only uses their bio-foam in the chest, but also along the sides to protect other vital organs in your torso and up along your collarbones. The Alpinestars Track Vest has the most frontal protection of the three vests listed.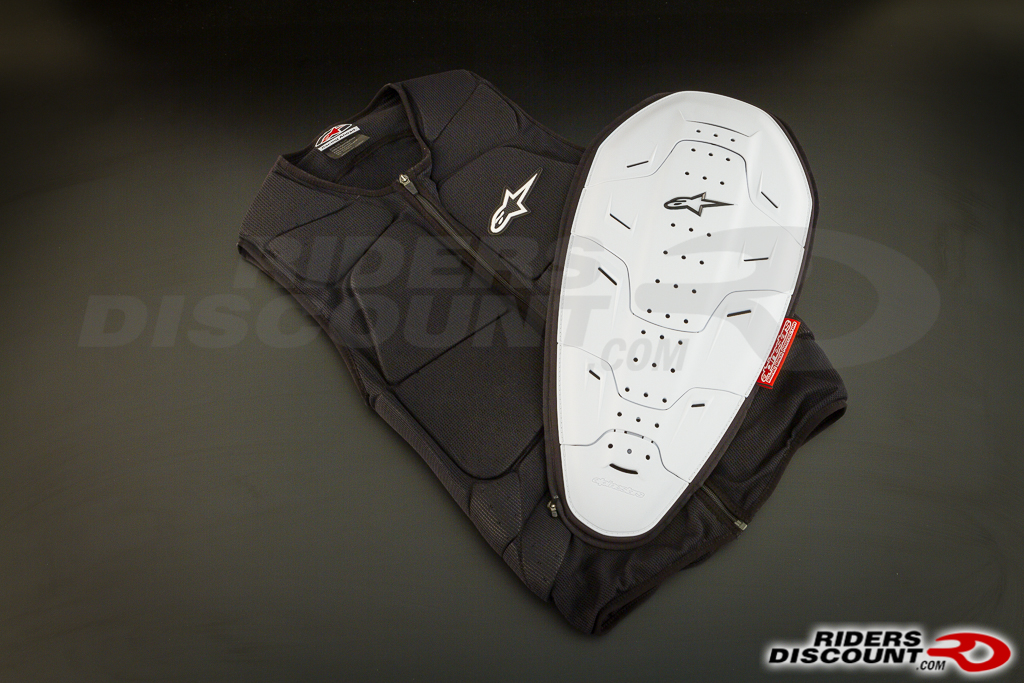 The Alpinestars Track Vest fits incredibly well and allows plenty of movement for your arms. Plus, you can't go wrong with the included Bionic Race back protector.
Link to buy the Alpinestars Track Vest here.
Forcefield Armour Airo Track Vest
- MSRP $274.00
CE Level 2 back protector
CE Level 1 chest protector
Machine washable
True to size (S - XL)
While this is the most expensive track vest listed, it's well worth the cost. This vest is the most comfortable out of all of the options and feels like you're not wearing any armor at all. The Airo Vest is the only vest that includes CE approved armor in both the back and the chest. Also, as an added bonus, it's the only vest to include pockets. Inside you'll find a height adjustable waist belt to help keep the back protector and vest in place.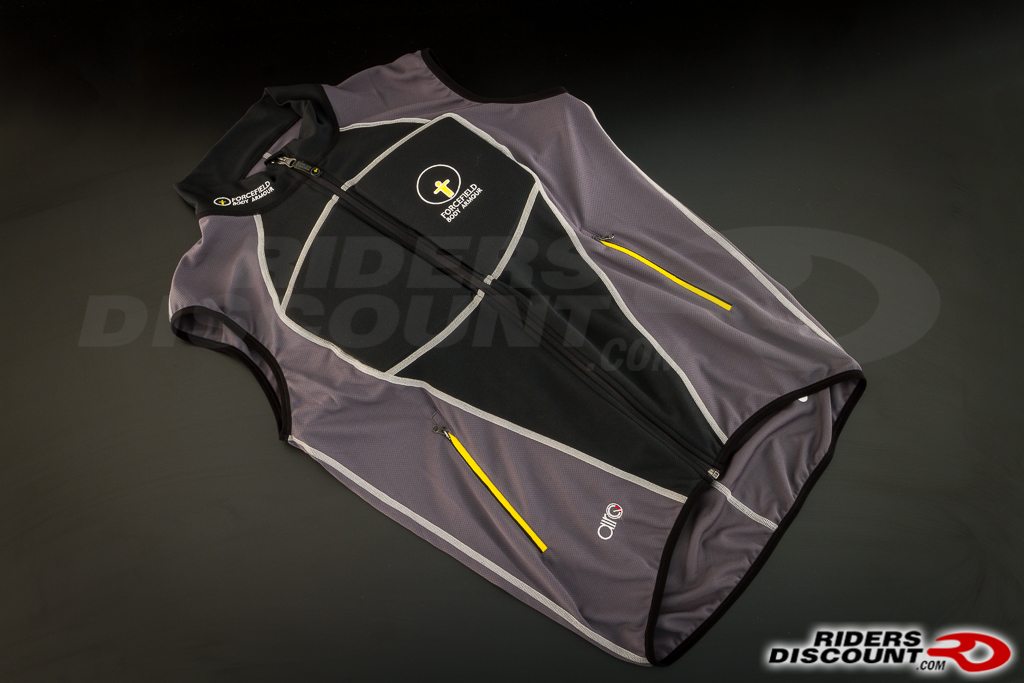 This vest is incredibly comfortable using lightweight, breathable Coolmax fabric with flat lock stitch seams that add to the comfort provided.
Forcefield uses Repeat Performance Technology (RPT), that ensures protection even after multiple impacts.
A huge benefit of the Forcefield Airo Track Vest is that it comes with CE approved armor right out of the bag. When you wear the Airo Vest, you know you're going to be protected.
------------------------------------------------------------------------
All three wear similar to a compression style shirt and are true to size. Your best bet when picking a size is to go with your preferred t-shirt size.
Each vest is a great choice and regardless of which one you choose or even if you choose one not featured here, some protection is always better than no protection. We always recommend you invest in protection for yourself before your bike. If you have any questions on any of these products, or if you have something else catching your eye, give our expert sales staff a call at 866.931.6644 and we'll do our best to help with anything you need.