Discussion Starter
·
#1
·
Spidi
started life as a glove manufacturer in the 1970's and they didn't waste any time in elevating themselves to the world class level. They succeeded in establishing their reputation as a top brand only two years after the company was founded, when they supplied gloves for Kenny Roberts during his run up to winning the 1979 world championship. Spidi hasn't looked back since. Fast forward to the present and you now find world class riders like Cal Crutchlow and Andrea Dovisioso representing the brand in MotoGP.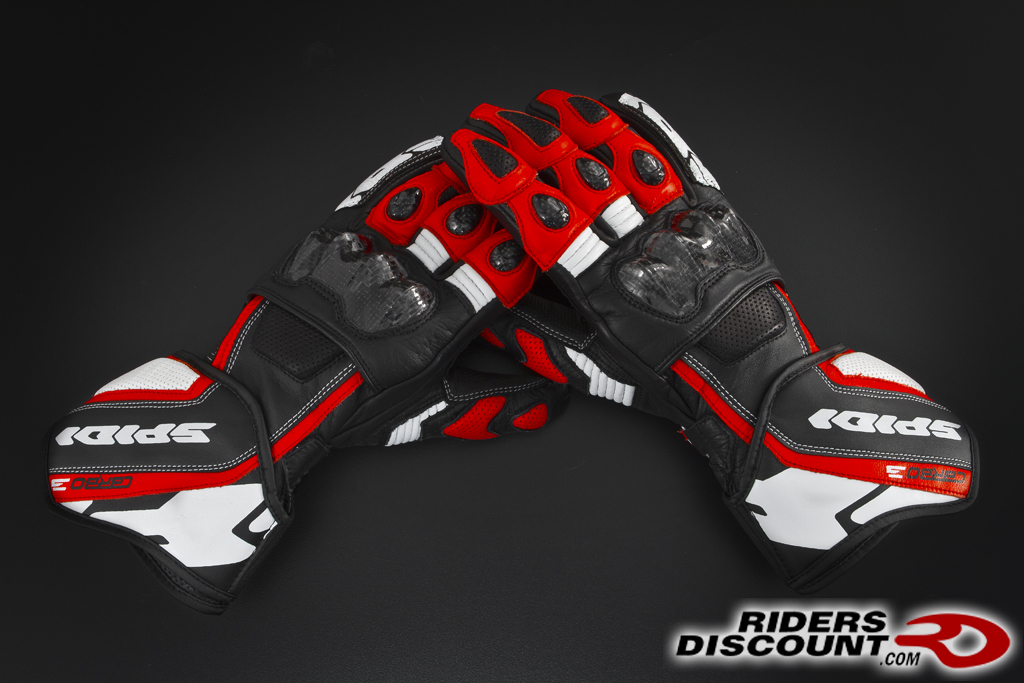 Spidi's Carbo-3 gloves
available from
Riders Discount
are constructed using very high quality leather from the same Japanese cows that provide Kobe beef. The leather is not only strong, but extremely soft, so the end result is a very supple pair of gloves that feels like well worn in the first time you try them on. This translates into excellent feel on the controls from day one. Spidi added even more flexibility by incorporating accordion stretch panels on the back of the thumb, as well as the tops of the index and ring fingers so that you don't have to strain when going for the brake or clutch. Most riders have a list of things that can make gloves uncomfortable for them and obtrusive seams in the fingers are generally pretty high on the list. This isn't a problem at all with the Carbo-3's. Spidi's internal seams can barely be felt and they don't hinder finger movement at all.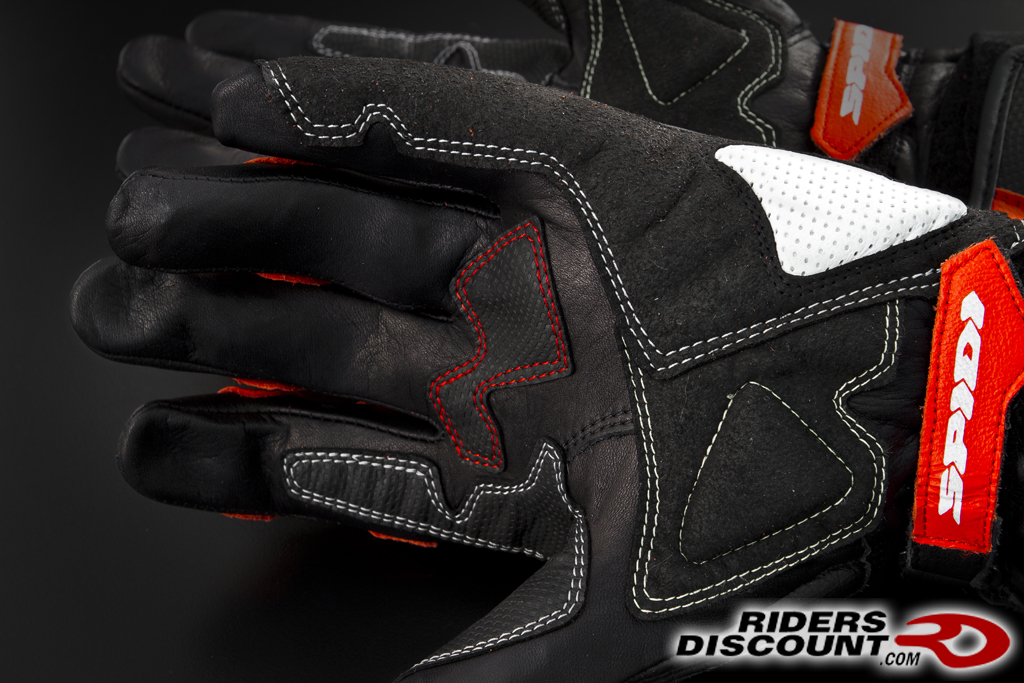 Rider safety is a top priority for Spidi and they used the experience gained during their 35+ years of competition, as well as plenty of input from their top riders to make sure that the Carbo-3's keep your hands protected. These gloves were the first to use Spidi's new uniquely shaped carbon fiber knuckle protector which was designed to reduce the risk of the hand catching and flipping during a slide.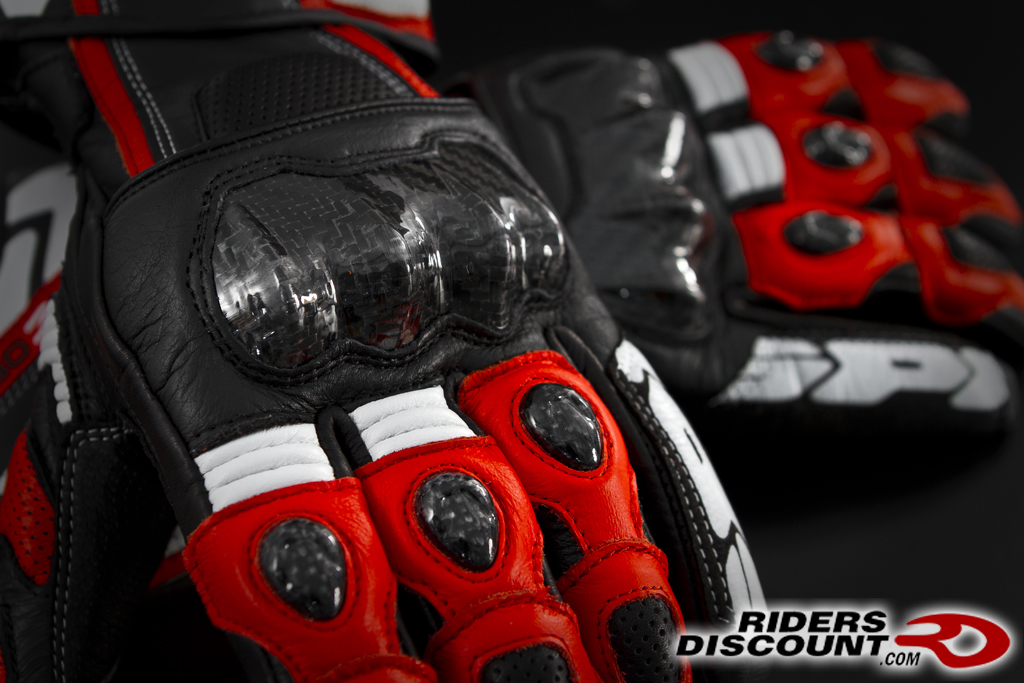 Energy absorbing foam backs this protector and extends up towards the wrist for extra protection on the top of the hand. The same foam is also found on base of the palm and outside of the wrist since they are the areas most likely to take an impact. Spidi used multiple layers of leather and clarino in not only the previously mentioned impact zones, but also the fingers and up outside of the hand to the end of the pinky.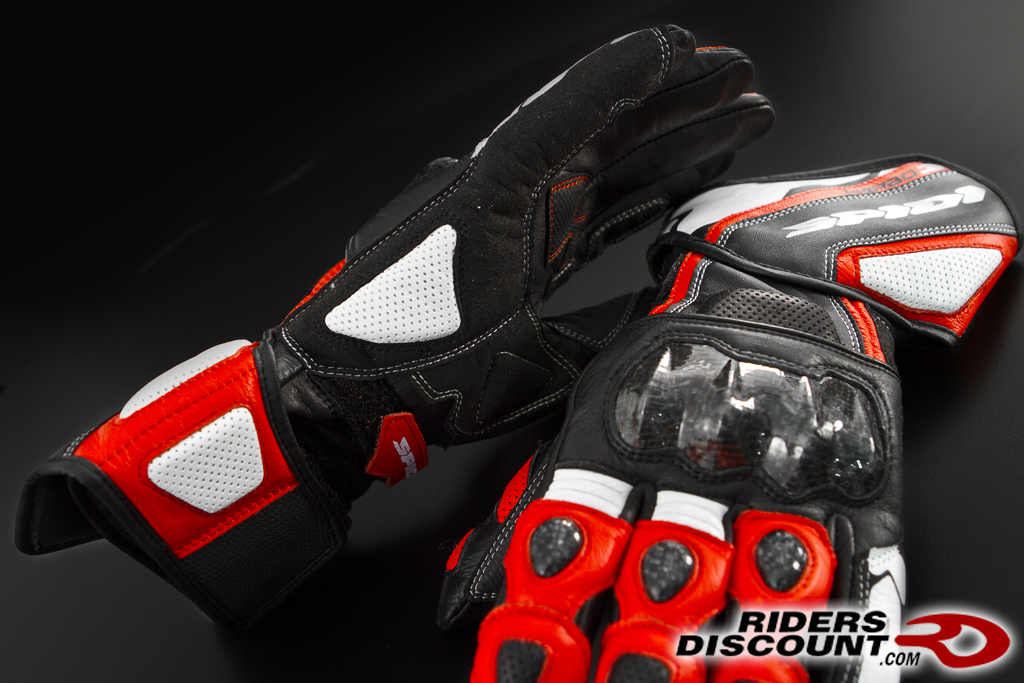 A long gauntlet with a dual stage, overlapping velcro closure protects the upper wrist and works together with the lower wrist-strap to help keep everything in place with a good snug fit.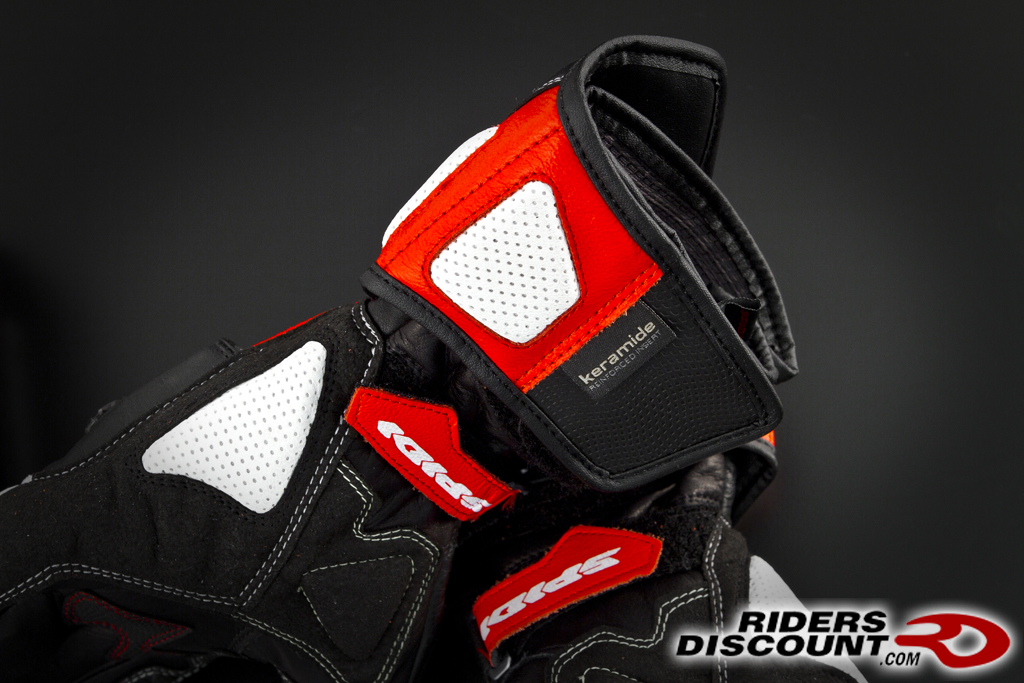 The Carbo-3's are available in black, white/black, white/red, fl.yellow/black, white/blue/yellow, and red/white/green. Fit on the gloves may be a touch small. I typically wear a medium and found it tough to initially squeeze through the wrist/palm area but once it was on it was perfect.
The Spidi Carbo-3 gloves are a great option for anyone that looks for excellent feel and flexibility in their gloves. Feel free to get in touch with
MIKE
at at 866.931.6644 ext.
804
today if you have any questions or would like to pick up a pair of your own. You can shoot him a PM through this forum or send an email to FORUM at RIDERSDISCOUNT dot COM and we'll get back to you right away!