Discussion Starter
·
#1
·
Chain and sprockets are some of the most commonly upgraded accessories purchased for motorcycles, but also some of the most confusing with nearly infinite options available such as brand, size, metal, tooth count, color, master link, chain length, chain type, tensile strength, and more!
We're going to break it down for you to help you better understand what some of these terms mean and try to make this decision a little easier for you.
D.I.D. ERV3 chain and Renthal sprocket kit shown here -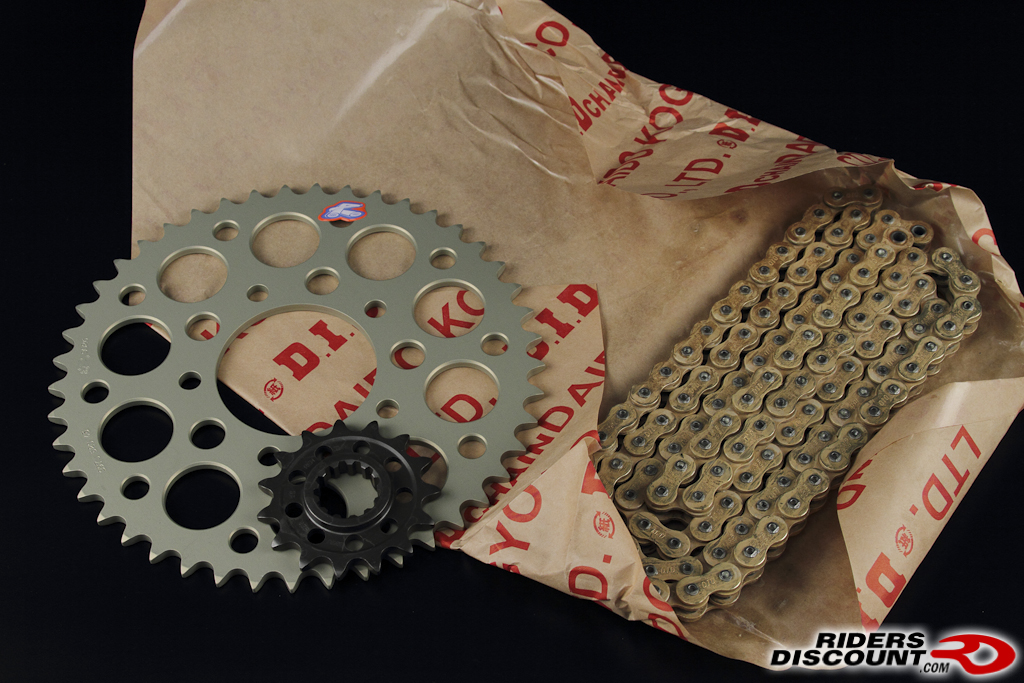 Let's start with the basic options to choose from: chain size, sprocket metal, sprocket ratio, and chain type.
There are three main sizes available: 520, 525, and 530. But what do these numbers mean? The chain size is based on the chain width and chain pitch. You'll hear some riders mistake the chain size as chain pitch and while this is unfortunately incorrect, it's becoming commonly accepted as fact. We're here to correct that and let you know that the chain width is the overall width of the chain link. The chain pitch is the distance between the pins in the chain link itself.
That being said, how do you know which chain size is right for your bike? Generally this is based on engine size and riding style. We recommend that 600cc-1000cc sportbikes use a 520 chain. If you're concerned a 520 chain won't be able to handle your 1000cc motorcycle, know that our 200+ HP BMW S1000RR Superbike uses a 520 chain without failure. Bigger bikes or modified engines with high horsepower output should consider a 525 or 530 chain to handle the additional load.
EK MVXZ chains shown here with various color options available -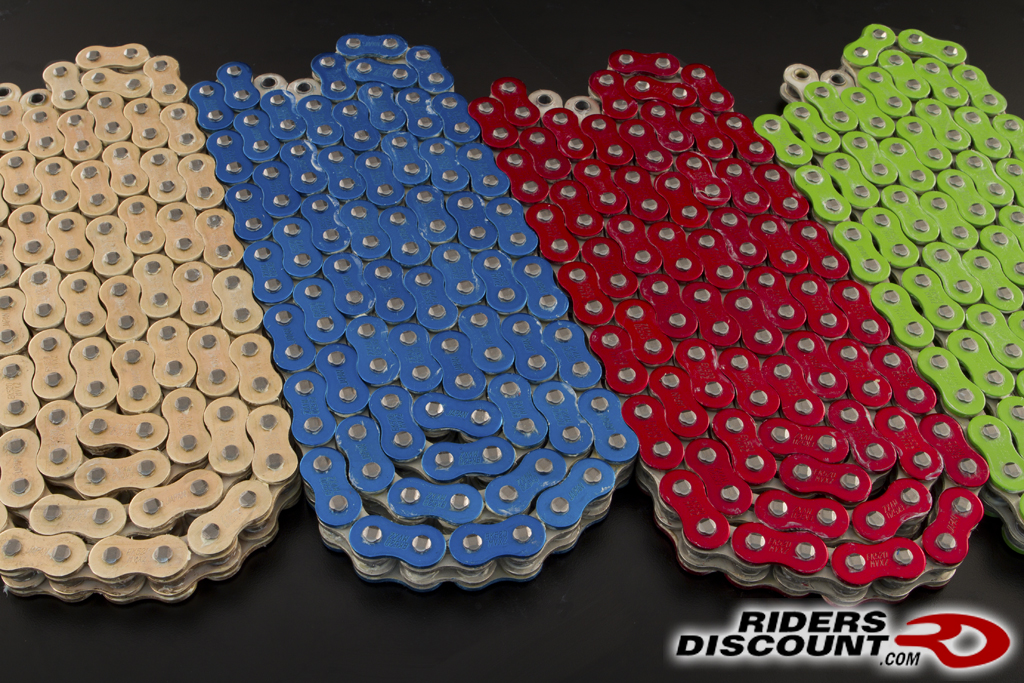 Sprockets really only have two types of metal choices available: aluminum, and steel. From the factory, your bike will come with steel sprockets. Steel sprockets will last a long time but are considerably heavier than the aluminum sprockets sapping your motorcycle's performance. The downside to aluminum sprockets is that they have a higher wear rate than steel. To counteract the high wear rate, some manufacturers have started to "hard anodize" their aluminum sprockets to make them stronger, decreasing the wear rate and creating a lightweight sprocket that lasts much longer than a normal aluminum sprocket. If you prefer a longer last sprocket, we would recommend the steel sprocket. However, if you are someone more focused on performance, an aluminum sprocket would be ideal for you. The happy medium would be the hard anodized option.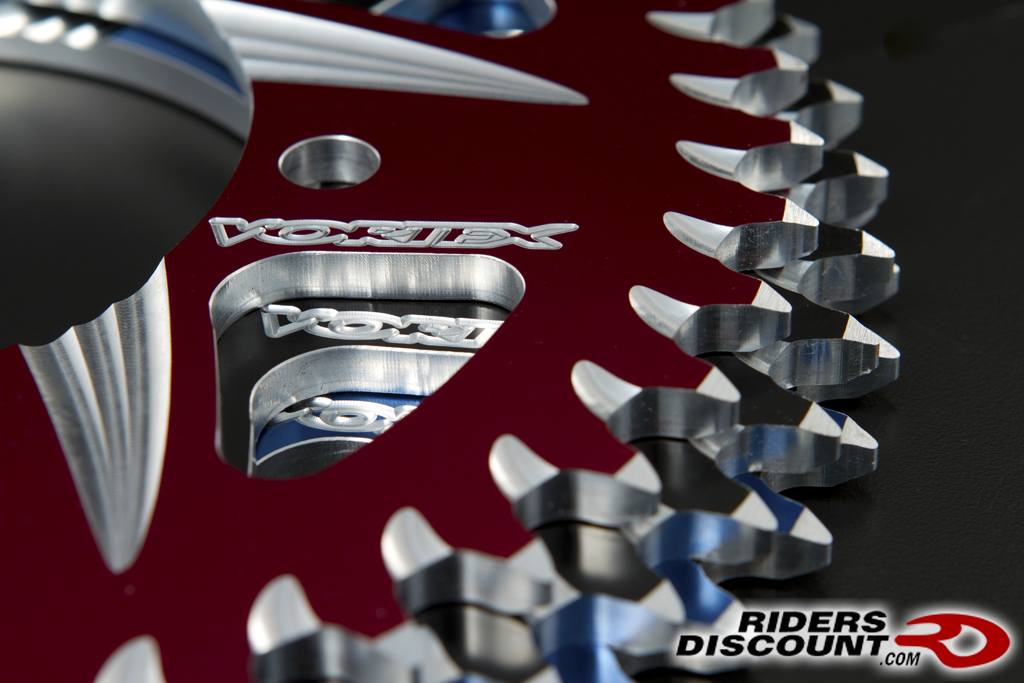 After you determine what kind of sprocket you want, the next decision would be to figure out your sprocket ratio. The sprocket ratio is the number of rear teeth compared to the front. A lot of riders will either stick with the stock ratio, or increase the ratio. Increasing the ratio results in greater acceleration but the trade-off is a lower top speed. But let's be honest, how often are you really going to get 160+mph on the streets? Not that often. The common sprocket choice is to go down one tooth from stock in the front, and either up one or two teeth in the rear, also commonly referred to as "-1/+2." If you really want that top speed, stick with the factory ratio. If you want your bike to out drag your buddy off the line, try a higher ratio like the -1/+2.
You should know that changing the sprocket ratio will affect the accuracy of your speedometer. Luckily, we offer accessories to correct your speedometer so you'll never wonder just how fast you are actually going.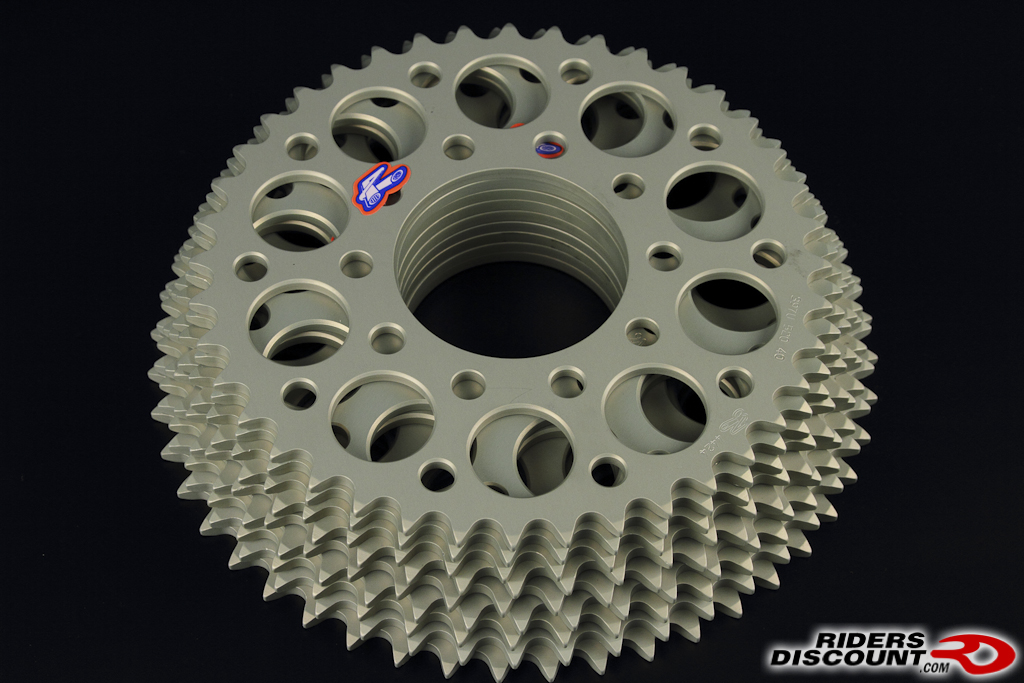 Like sprockets, there are really only two chain types that street riders need to be concerned with: X-ring, and O-ring. The X and the O just describe the cross-section of the ring itself. If you were to cut these rings in half, one would look like an "O" and the other, an "X." The purpose of the X or O-ring is to keep internal lubrication in, and keep the dirt out increasing the durability of the chain. The X-ring technology is fairly new and has less surface area rubbing against the chain link resulting in less drag and better chain performance. An O-ring chain is generally cheaper, but most sportbike chains are using X-ring technology now.
Installing a chain and sprocket kit can be relatively easy with the right tools. You'll need a Dremel, chain tool, torque wrench, and a basic set of wrenches and sockets to get the job done. The hardest part will be removing the front sprocket. For this we would recommend an impact gun.
To connect the chain you'll have the choice of a clip style, or rivet style master link. We strongly recommend using a rivet style master link, as this is considerably safer than the clip style master link. This will require a chain tool to install.
There are a few types of chain tools available, all of which will get the job done. The D.I.D. chain tool, for example, is shown here -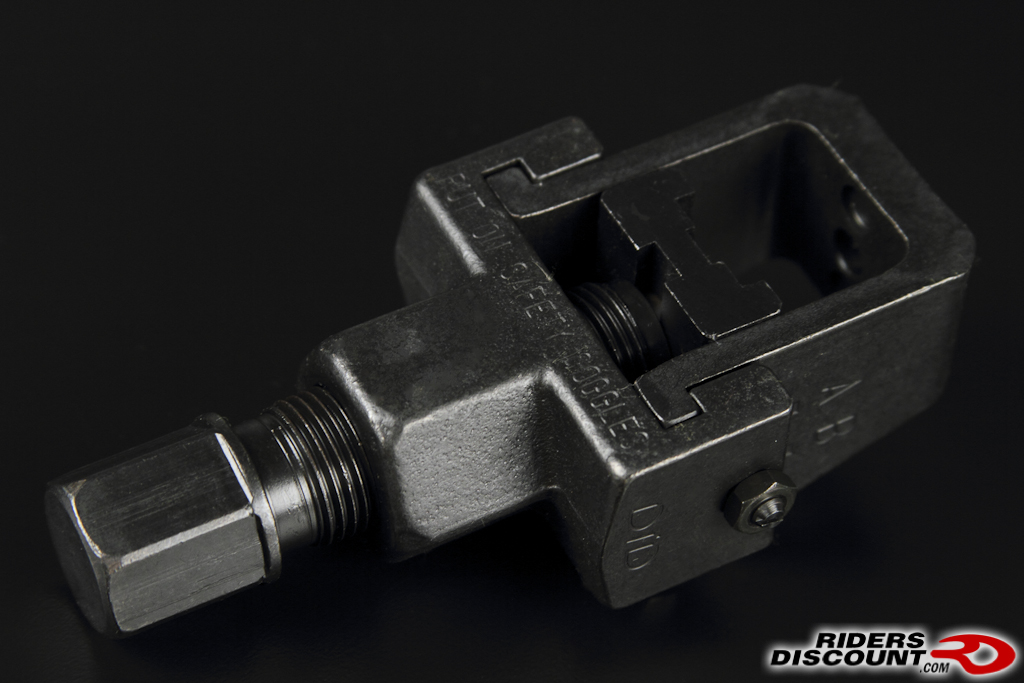 Or the RK chain tool shown here –
The options we've highlighted here are the main points to consider when ordering your chain kit. There are a variety of quality brands that produce chains or sprockets and our expert sales team can help you determine which one would be appropriate for you and your riding style.
The most important note to take away from this entire post is the chain and sprocket must be the same size. A 520 sprocket will not work with a 525 chain and vice versa.
Riders Discount carries all of the industry's leading brands of sprockets and chains as well as the specialty tools required to install your new chain kit. No matter what you're looking for, you can count on Riders Discount to have it in stock. If you have any additional questions or would like to place an order, give
MIKE
a call at 866.931.6644 ext.
804
. Email more convenient? No problem, send us a message through this forum or write to us at FORUM at RIDERSDISCOUNT dot COM, and we'll get back to you right away!