Discussion Starter
·
#1
·
Buying a race suit can be nearly as difficult as buying a motorcycle it seems. And with retail pricing ranging from $799.95 to $2899.95 for
Alpinestars suits
, it is a decision that isn't taken lightly.
We're going to go over the available
Alpinestars
suits to help better inform you on each one and hopefully allow you to feel more comfortable about your purchase.
First, let's talk about fit. One of the most common calls we get from customers who just tried on their new suit is that it doesn't fit right and/or it doesn't feel comfortable. More often than not, they are basing this from standing up in their living room and walking around the house. A race suit is not meant for either of these scenarios, they're meant for the rider to be on the bike and carving up the track. The first thing we're going to ask you when you call with concerns about the fitment is how does it feel on the bike?
When you first put on your new suit, it's going to take a lot of work and you're going to look ridiculous putting it on, that's a given. We've all been there. After you get your suit zipped up, get out to your bike and sit on it. Get in a tuck, get your butt off like you're going to drag knee (be careful and make sure it's on a rear stand or have a buddy help hold the bike). Does it feel comfortable now? Is it hindering your movement at all? These are questions to ask yourself before determining if the fit is good, or if the fit is off. If you think it's still not fitting right, give us a call and we'll be more than happy to answer any questions you have or exchange for a different size.
Ladies, we have suit options for you too
. Give us a call if you need help with sizing or if you'd like to purchase a suit.
The complete Alpinestars' suit line covers a range of riding styles, from Sunday morning cruises to WSBK level race suits. First up is the Alpinestars Motegi Suit -
Alpinestars Motegi Suit
- $799.95 MSRP
-- Entry level
--
Motegi two piece options available
--
Alpinestars Motegi Suit Full Review
The new entry level suit from Alpinestars. This is a great all-around suit that is perfect for carving canyons or tackling a trackday.
Alpinestars designed the Motegi with a less aggressive cut than the ultra-aggressive higher end suits, meaning that it is possible to stand up off of the bike without it feeling like a workout. This doesn't mean that it is any less comfortable on the bike, however. The Motegi features durable Aramidic stretch panels that run down the length of the underarms, sides of the torso, crotch and back of the legs for increased mobility and comfort on longer rides.
Available in black/white, white/black, black/white/red, white/black/red, black/white/yellow (pictured here), and black/white/gold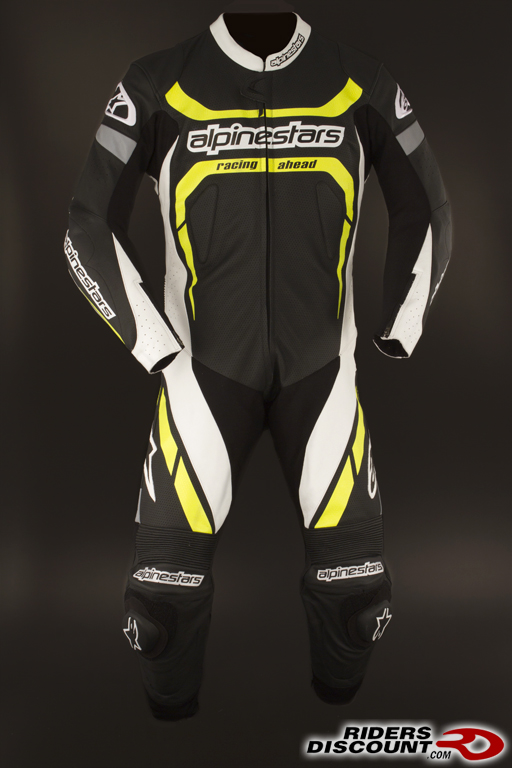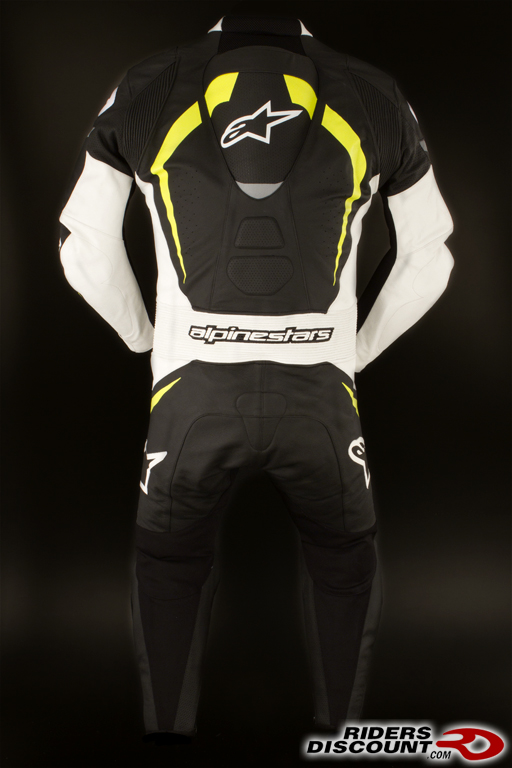 Alpinestars SP-1 Suit
- $899.95 MSRP
-- Entry - Intermediate level
-- Closeout
--
Alpinestars SP-1 Suit Full Review
The SP-1 suit from Alpinestars is a full-on race suit and one of our most popular selling suits. It's easy to see why they've kept this suit in their lineup since 2009. CE-approved GP armor is found in the knees, elbows, and shoulders and has the option of adding in the Alpinestars Bionic Race back protector and Bionic Race chest guards for even more protection. This suit is heavily perforated in the chest, legs, arms, back, and the race hump, and perfect for riders in the warmer climates or the humid mid-west climates.
Available in black, or white/black (limited sizes)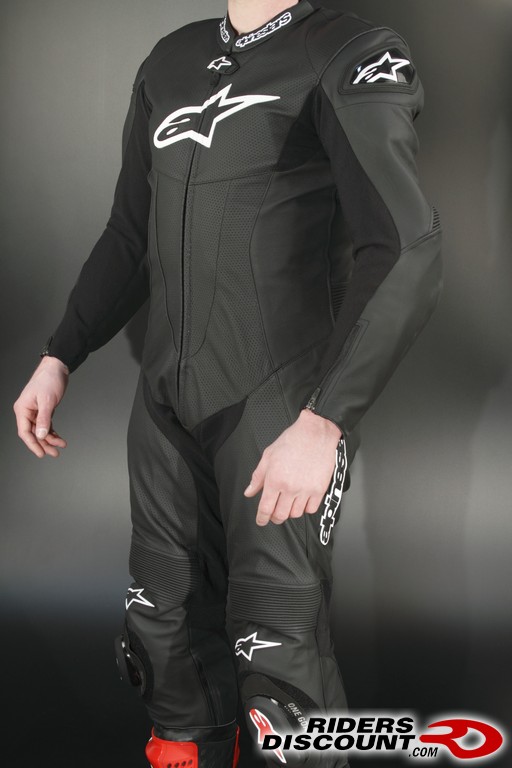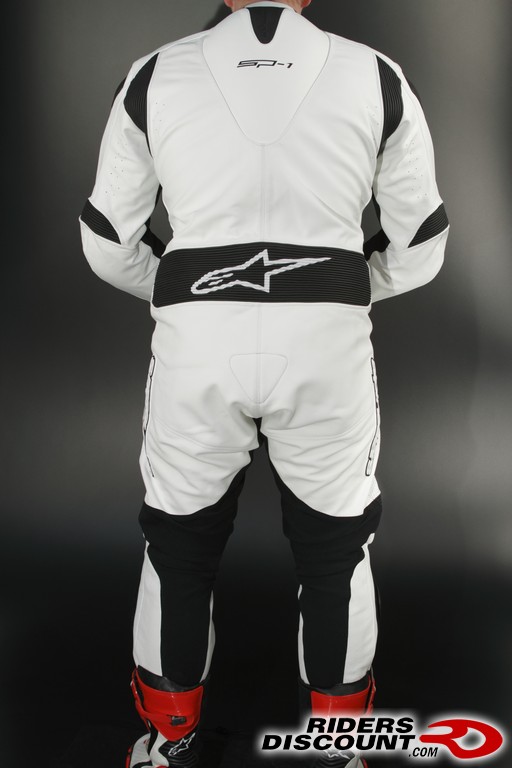 Alpinestars Orbiter Suit
- $899.95
-- Intermediate
--
Alpinestars Orbiter Suit Full Review
The Alpinestars Orbiter suit puts an emphasis on providing a comfortable riding suit that can handle multitudes of riding styles. This suit is the best all-around suit offered by Alpinestars. Perfect whether you're just out for a ride, carving up the canyons, or at a track day. Alpinestars has accomplished this by incorporating proven protection technology with new ergonomic features such as an offset zipper and copious amounts of stretch material, such as across the chest.
The Orbiter is available in the black/white/red shown here, and black/white.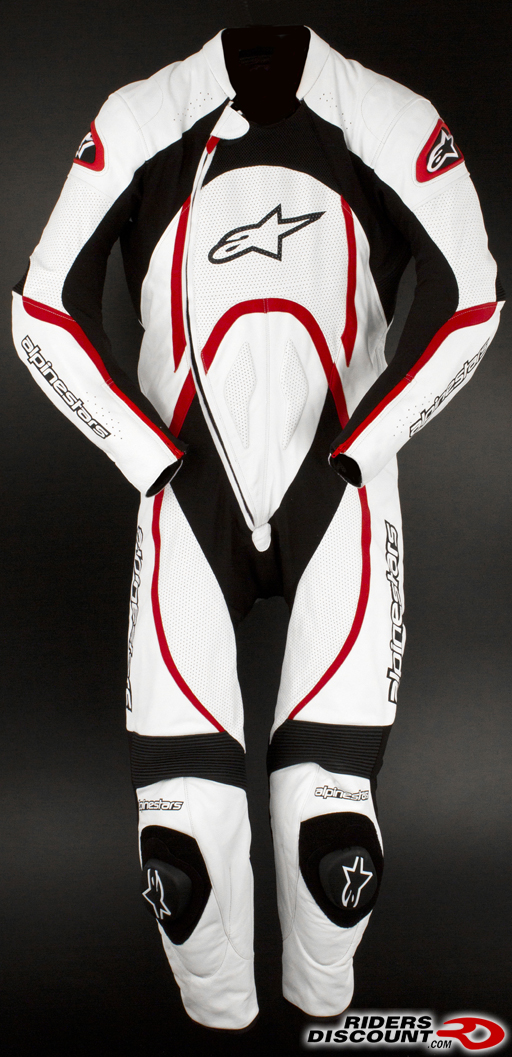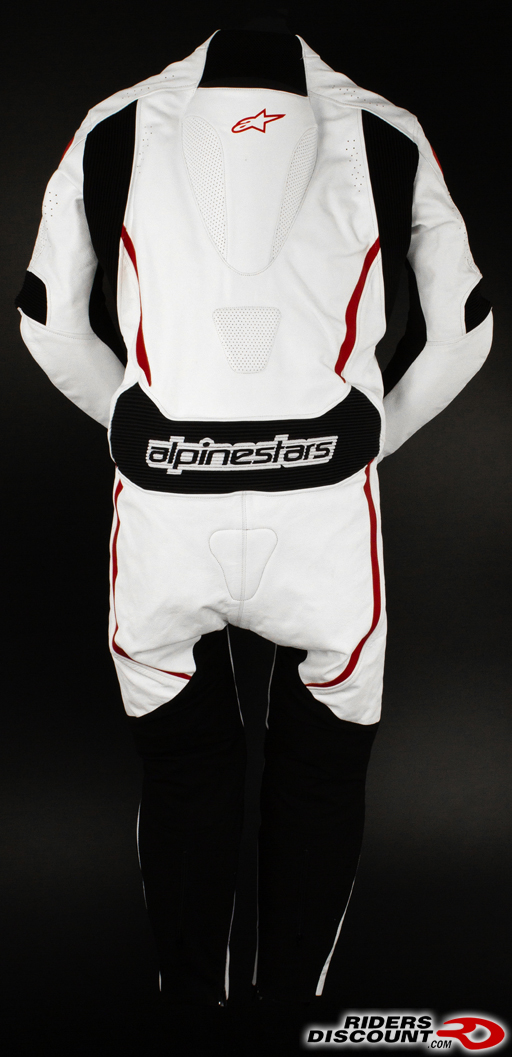 Alpinestars GP Pro Suit
- $1199.95 MSRP
-- Intermediate - Advanced
--
GP-Pro two piece option available
--
Alpinestars GP Pro Suit Full Review
One of the first suits we see in the Alpinestars collection to have heavy influences from MotoGP and WSBK development. This suit has DFS (Dynamic Friction Shield) protectors in the shoulders and elbows. Whether you drag your elbow on purpose or by accident is your choice, but at least you'll be protected! A removable, washable mesh liner will help keep this suit fresh for long into its wearable life. Also notable with this suit is a 3D mesh sleeve and ankle cuffs for breathability and added comfort with gloves and boots.
Available from Riders Discount in black/white/red (shown here), black/white/grey, and black/white/hi-viz yellow. TheGP Pro two-piece suit option is available as well in black, and black/white/grey, however it is not perforated.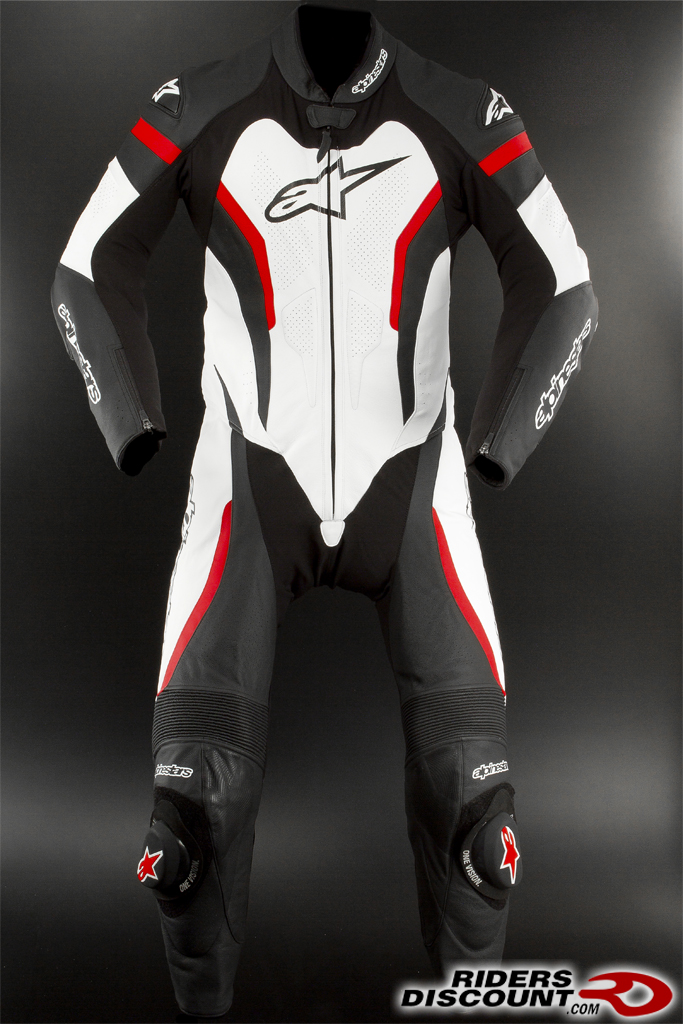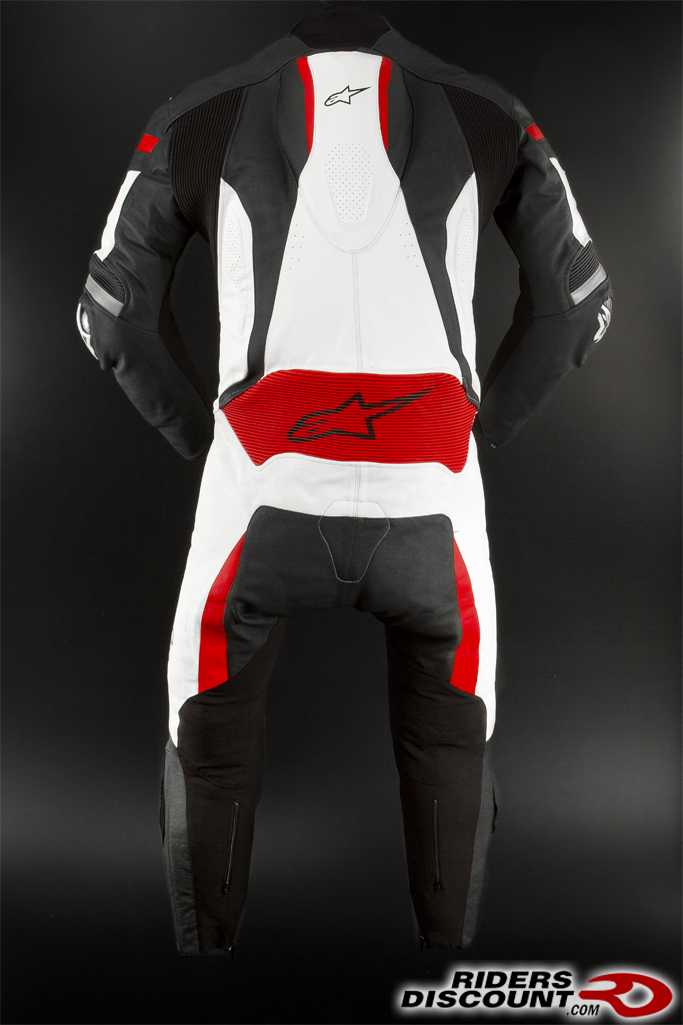 Alpinestars Atem Suit
- $1499.95 MSRP
-- Advanced
-- CE-approved
--
Alpinestars Atem Suit full review
As briefly noted, the Alpinestars Atem suit is CE-approved. Not just the armor or specific areas of the suit, the entire suit is CE-approved. This is without a doubt one of the safest suits ever produced. Alpinestars has accomplished this incredible safety rating using high-grade, highly abrasion resistant leather with additional leather reinforcements in impact zones. Adding to the protection is an array of armor that use much of the same technology found in the Race Replica suit including DFS protectors on the shoulders, elbows, and knees. The Atem is a suit that, while expensive, actually offers a great deal of bang for the buck. There aren't currently any other suits that offer this kind of high-end tech at a price near it. On top of that, we think it's one of the best looking suits on the market!
Available in black/white/red (shown here), and black/white and black/white/yellow.