Discussion Starter
·
#1
·
So either you're looking to get into track riding and are unsure of what
motorcycle boots
to get that are safe, or maybe you've been riding the track for a while and are looking for an upgrade.
Alpinestars boots
offer some of the best boots you'll find on the market. Take a look around your local track paddock or on the TV screen at your favorite riders and you'll probably find them wearing Alpinestars boots.
Alpinestars
offers three different race boots that cater to everything from entry level to race spec. Here we're going to take a look at the different boots offered by Alpinestars with a brief summary of each available from
Riders Discount
. First up is the Alpinestars SMX-6 -
Alpinestars S-MX 6
- $269.95
- Entry level
-
Alpinestaras S-MX 6 Waterproof
option available
-
Alpinestars S-MX 6 Stella
available as well
- True to size fitment; Average foot width
Successor to the ever-popular S-MX 5, the Alpinestars S-MX 6 boot retains what many loved about the S-MX 5 but with additional track-ready protection such as a beefier heel cup and TPU ankle brace. The ankle brace connects the upper and lower portions of the boot with a flexible link that allows for normal motion such as shifting and walking, but does not allow for twisting or excessive flex that can cause serious injury. This boot is quite comfortable thanks to a supple and breathable interior liner. The Alpinestars S-MX 6 is perfect for rides around town, canyon cruising, and novice/intermediate trackday level riders.
Available in black (non-vented), black (vented), black/red (non-vented), black/white (vented), black/yellow (non-vented), and waterproof ($299.95)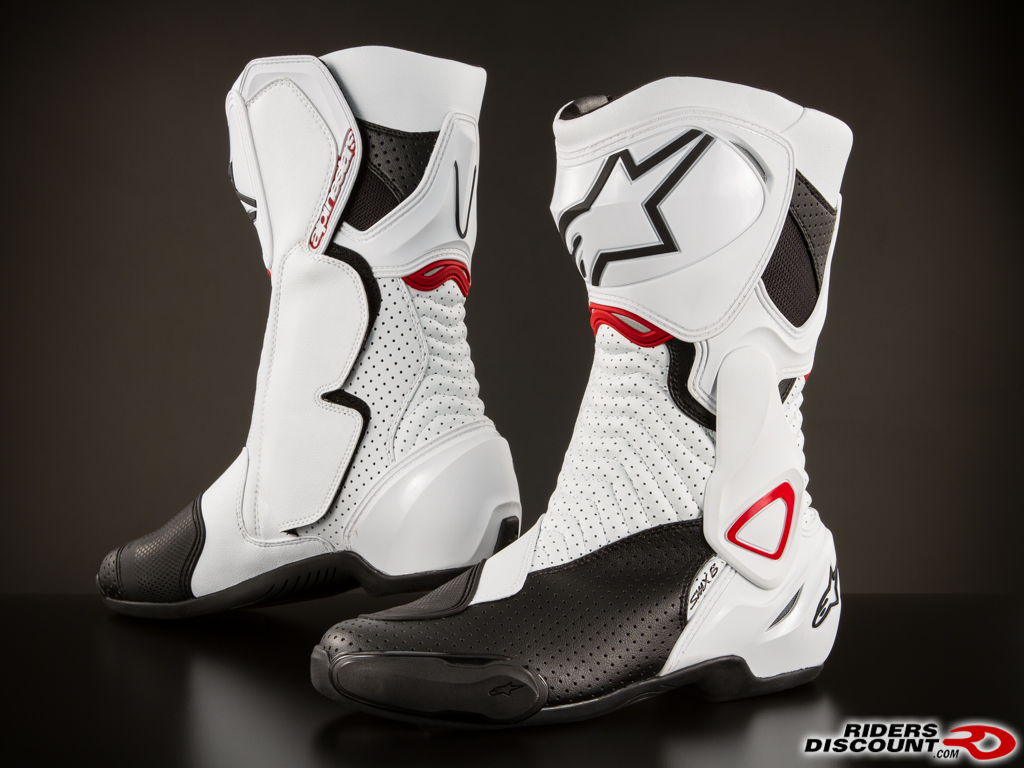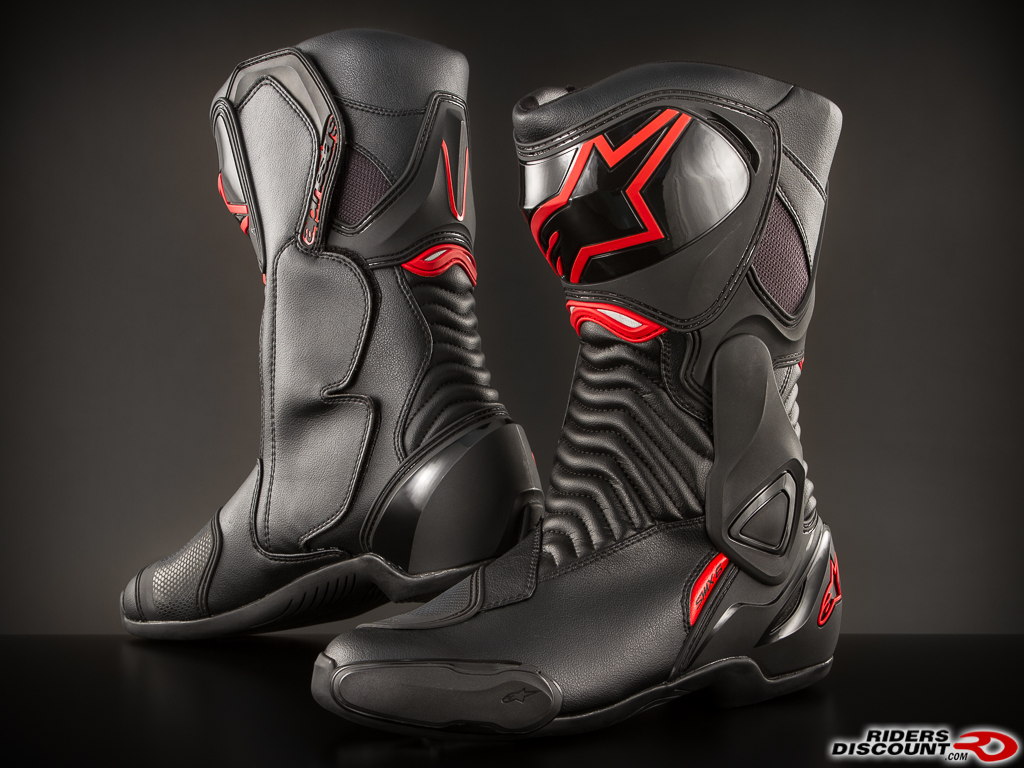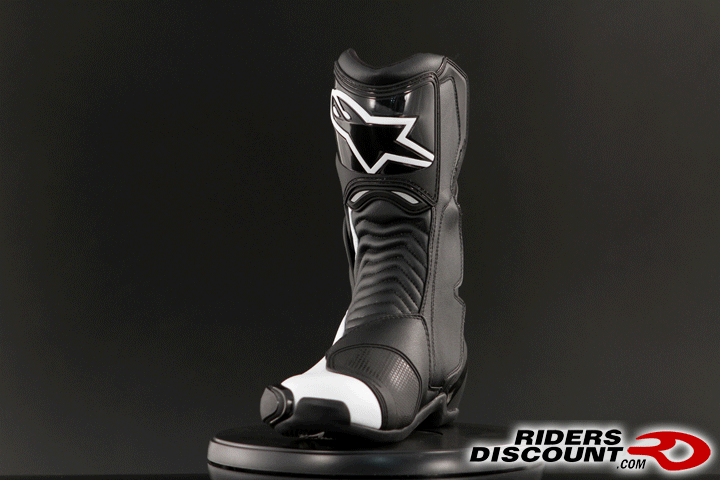 Alpinestars S-MX Plus
- $369.95
- Intermediate/Advanced level
-
Alpinestars S-MX Plus Gore-Tex
(waterproof) option available ($449.95)
- Fit is true to size; Average foot width
One of the more popular boots sold among all brands, the S-MX Plus boot from Alpinestars offers the perfect balance between the S-MX 6 above and the Supertech R below. Alpinestars uses their Multi Link Control System ankle support which offers additional and stronger protection for your ankle as well as additional TPU armor that wraps around the shin for even more protection. Multiple accordion stretch panels and an elastic stretch panel along the zipper allow for a completely custom fit. Inside you'll find open cell foam with additional padding in all the right places for superior comfort.
Available in black (vented), black (non-vented), white/black, black/white/red, black/white/yellow, and black/grey "Shadow"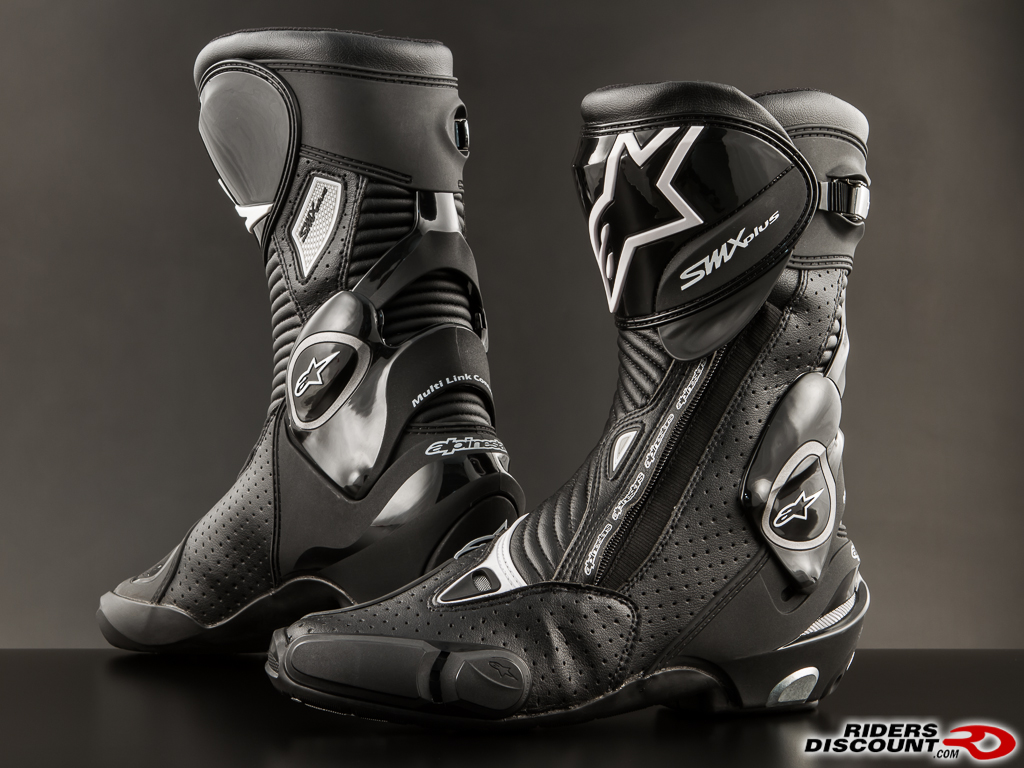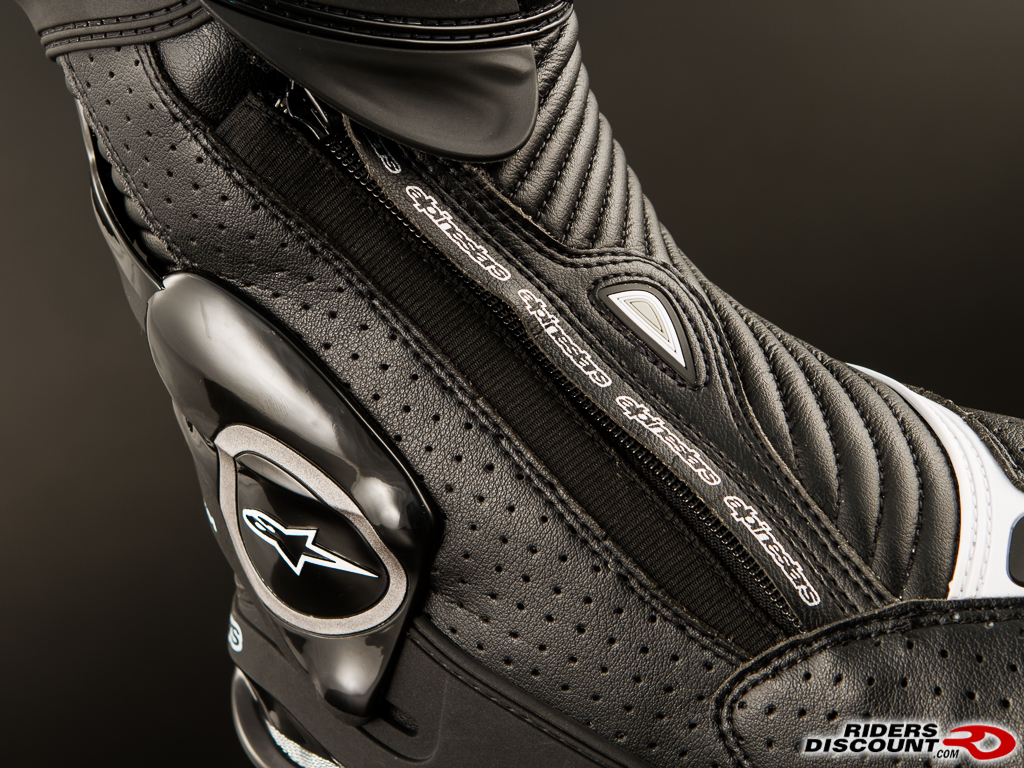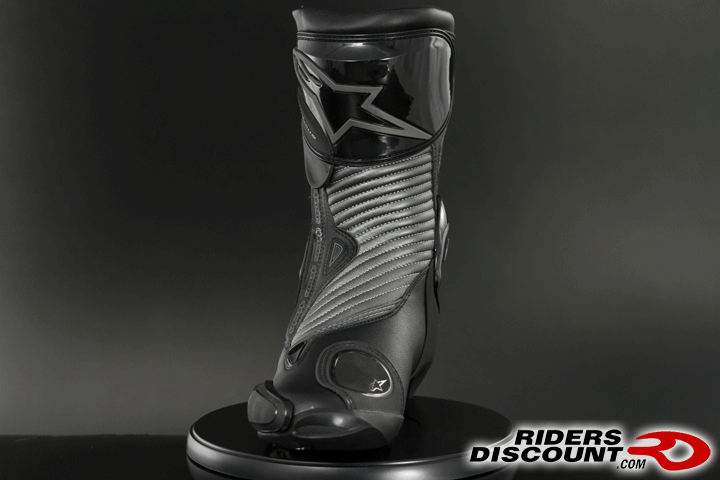 Alpinestars Supertech R
- $449.95
- Intermediate/Advanced/Race
- Fit is small, order one size larger; Average foot width
This is your elite boot. The best of the best. This is the boot you'll find your favorite riders wearing on the professional circuit. The Alpinestars Supertech R offers superior protection and comfort with features such as a bio-mechanical ankle brace, rigid toebox, perforated panels, heel slider, and a clean exterior that is less likely to catch on heel guards or other parts of the bike.
The innovative bio-mechanical ankle brace is part of a removable inner bootie that work together to allow your foot to work normally but preventing any unnatural flex. The ankle protection featured on the Supertech R is one of the safest mechanisms available on the market and has saved many a rider during a crash. The sole of the boot is completely replaceable which is key if you have aggressively cut pegs. On the inner-side of the boot you'll find synthetic suede along the entire side of the boot. This prevents any snagging on a heel guard when moving around on the bike.
A really excellent boot that offers the same technology seen on the MotoGP and WSBK riders. You deserve the best, and the best from Alpinestars is the Supertech R.
Available in black (non-vented), black, black/white/yellow/red, white/black, white/red. All colors vented except for the aforementioned black.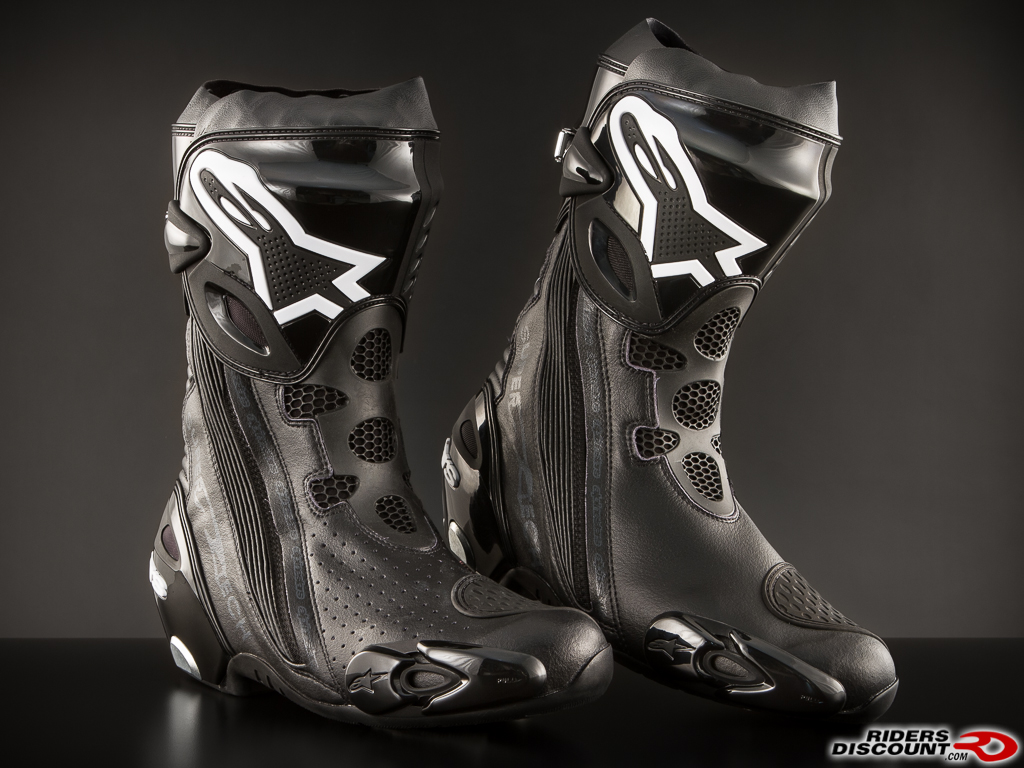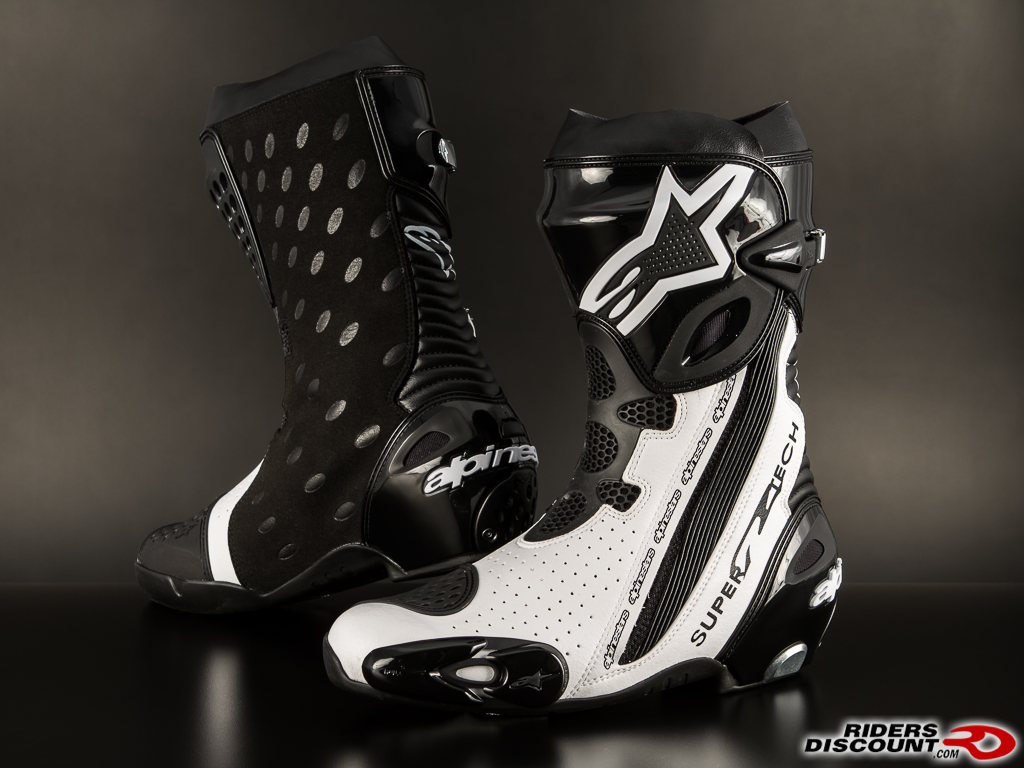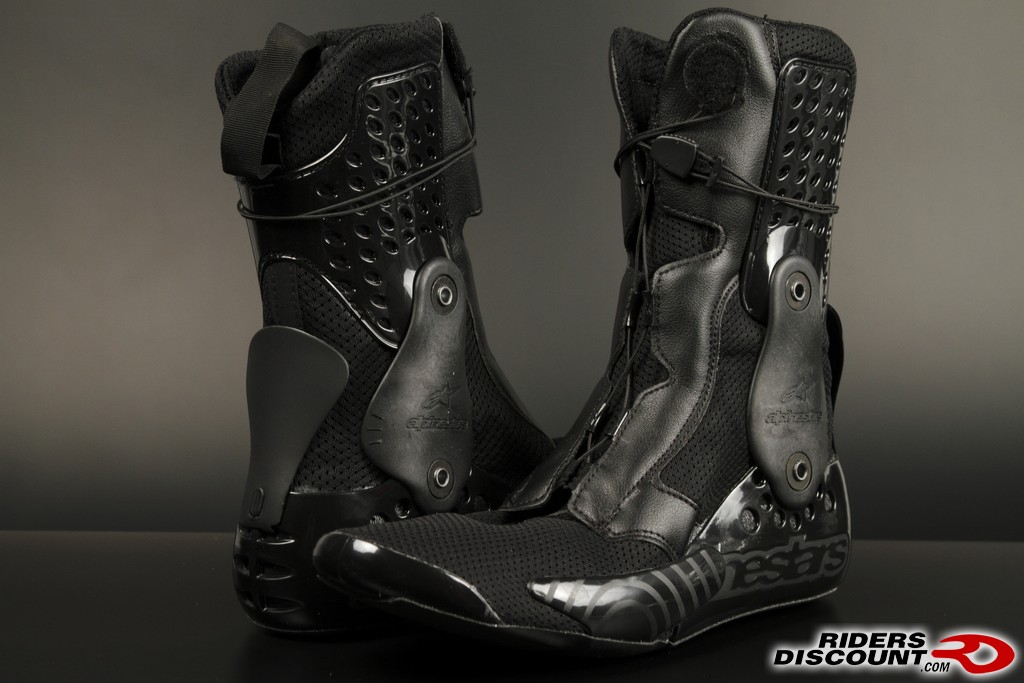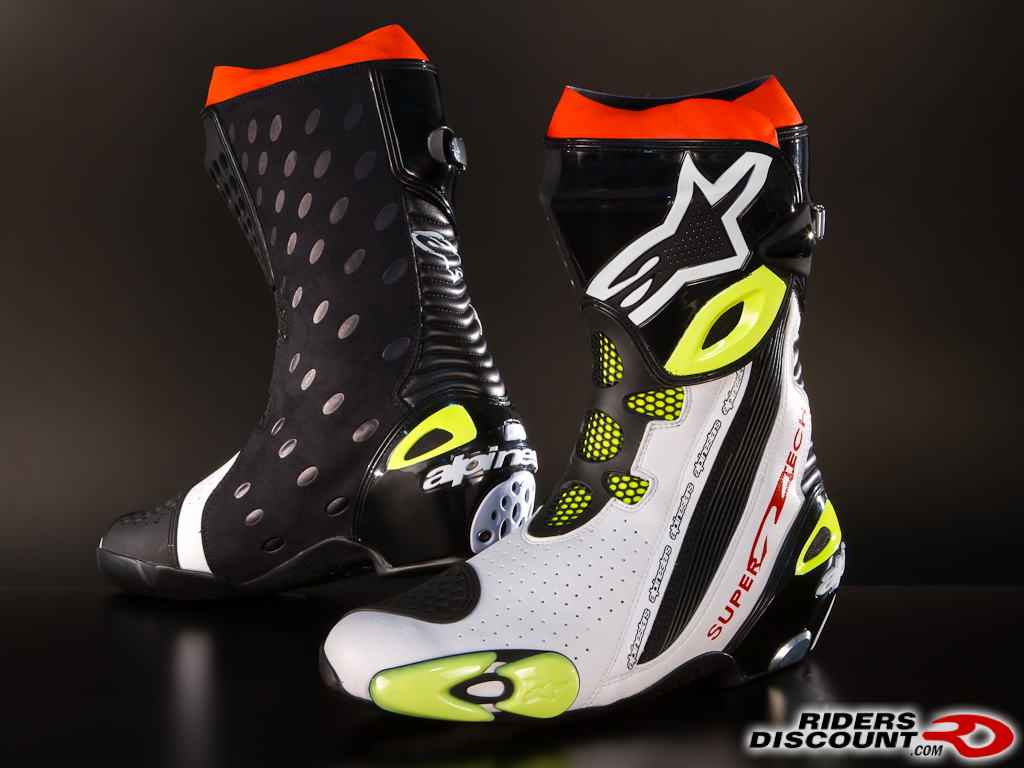 To place an order for any of these boots, give
MIKE
a call at 866.931.6644 ext.
804
. Is email more convenient? Send us a message through this forum or write to us at FORUM at RIDERSDISCOUNT dot COM, and we'll get back to you right away!
Which boot would you pick? Leave a comment with your thoughts or questions below!