Discussion Starter
·
#1
·
Rossi's 2013 Mugello replica lid, the
AGV
Corsa Turtle Rossi Replica helmet is now available from
Riders Discount
!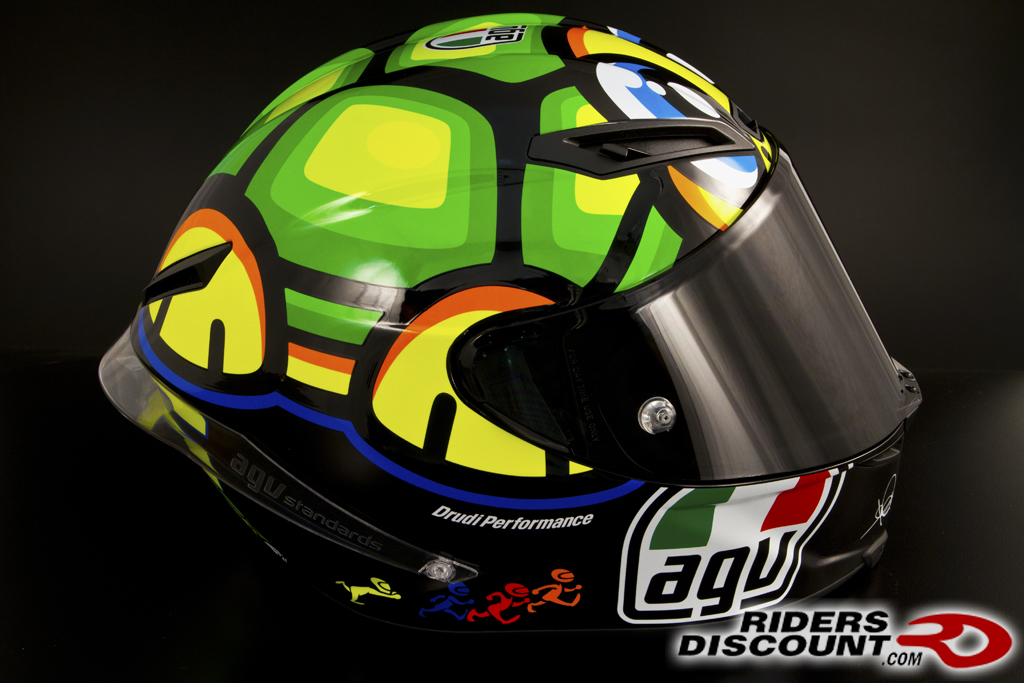 For Mugello, the Doctor chose a 'turtle helmet' decorated with a design featuring a cartoon type turtle shell with two huge eyes at the front. Since his childhood, Valentino has always been fascinated by this animal: the first furry toy his mother gave him was a ninja turtle and when he rode in the mini moto series, he always had it fitted to the top of his helmet. Since then he has always had the same graphic on his helmets in one way or another and even has one tattooed on his hip.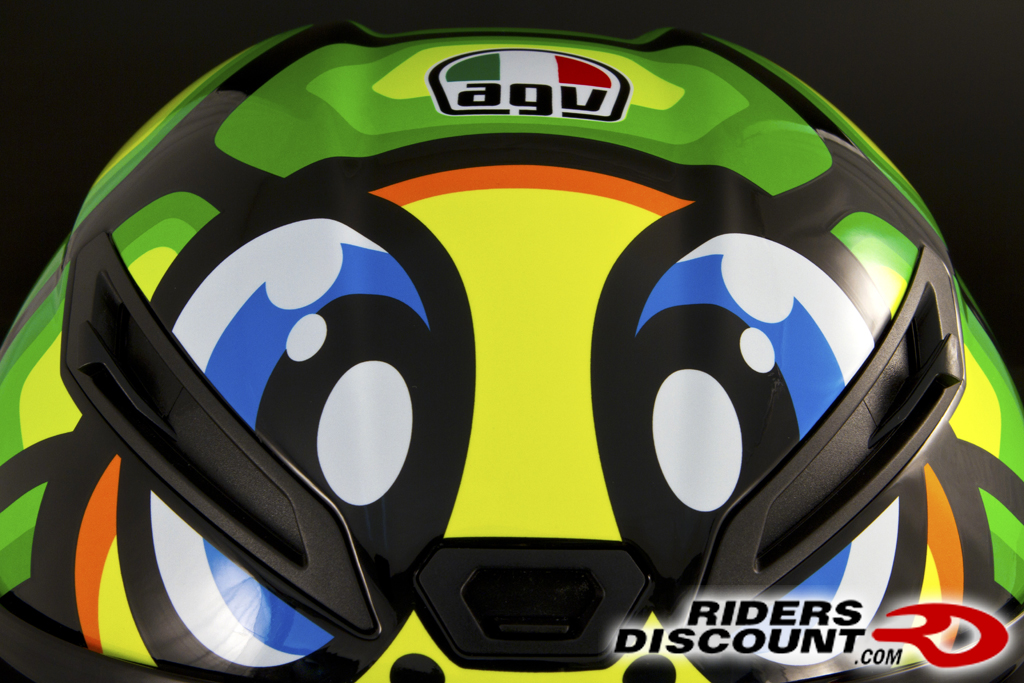 You can immediately tell that the
AGV Corsa
is something a little different at a glance. From the huge eye port at the front, to the sharp diffuser at the back, the entire profile of the helmet screams performance. That's because the Pista GP that it is based on was meant for pure performance at the highest level. The two helmets share the same shell shape, which means that the Corsa gets the same ultra-efficient aerodynamics and massive eye port as its much more expensive counterpart. The area that the shells differ is the material used. The Pista GP is made of carbon fiber, whereas the Corsa is made of a Carbon/Kevlar/Fiberglass. Built into the shell are several very large intake vents at the front and two exhaust vents at the back. The shape, size and channeling of the ventilation is the same as that of the Pista GP, however the Corsa's are adjustable.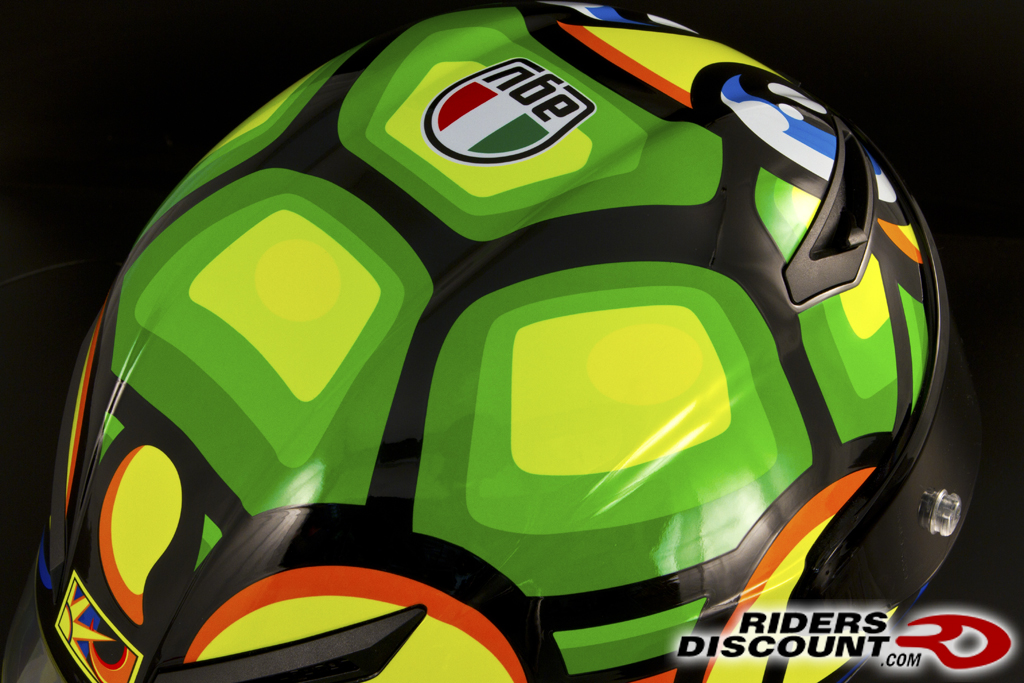 Inside the Corsa, you'll find a very plush, comfortable lining that allows you to customize the fit right out of the box. An intermediate-oval shell however, peel-away foam pads found in both the cheek pads and liner allow the fit to be user customizable. These types of pads aren't new to the market, but the liner also has another trick up its sleeve. The two strips of padding that run over the top of the head connect to the back of the liner with velcro, meaning that you can lengthen, shorten and move them side to side. This allows the Corsa to provide a comfortable and safe fit to a variety of head shapes. The fabrics that line the interior are all extremely breathable and have received a special sanitizing treatment that keeps them fresher for longer. When they do need cleaning, you can pull them out and wash them without having to worry about ruining them.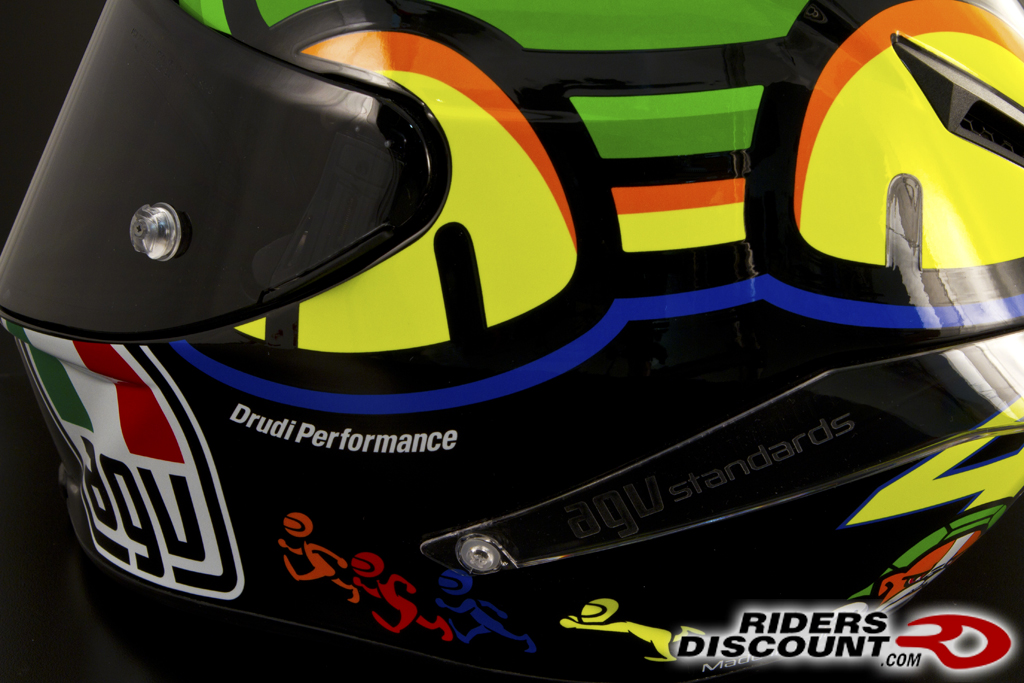 Overall, the AGV Corsa successfully takes most of what makes the Pista GP such an effective track helmet, and makes it more attainable for those that are not top-level racers. It also adds versatility, which is not a bad thing at all.
If you're interested in the AGV Turtle, just get in touch with
MIKE
by calling
866.931.6644 ext. 804
or send an email to FORUM at RIDERSDISCOUNT dot COM and we'll get back to you right away!